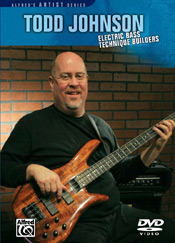 Technique Builders
- The Essential guide to electric bass technique
2006 || Todd Johnson, Instructor
Download - $15
Already have the DVD? - BUY COMPANION BOOK ONLY
TECHNIQUE BUILDERS teaches you how to control the shape, attack, decay and articulations of the notes you play in a logical, organized, and concise method!
Technique Builders is perfect for beginners wanting to "learn things right the first time", or for the self taught old pro looking to fix some bad habits.
In Technique Builders, you'll learn:
Right and left hand ergonomics
Floating thumb technique
Right hand muting
Shifting
Supportive fingering
Hammer ons & pull offs
String skipping
Ghost notes
Here's what others are saying about "Technique Builders":
One of the finest electric bass educators on the planet. Todd's DVDs are indispensable viewing for any bassist wanting to play jazz. -- Steve Lawson
Todd, those technique exercises are really great...I remember when I first bought your DVDs I was thinkin', "Man, $40 is an expensive DVD," but they are definitely worth it. -- Dave
I have to reiterate that this video has made me a better player. I find all of the excercises and drills very useful, especially with my left hand finger independence. The detail in this one video could have replaced at least two others that I own. Thanks again. -- Menyo
In an effort to correct the most common technique-based problems experienced amongst his students, Todd Johnson has released his second instructional DVD, Technique Builders. As an instructor, Johnson has demonstrated his concepts to students at leading musical institutions in California, during bass clinics throughout the United States, and in private lessons since the early 1990's. In this DVD, Johnson troubleshoots the problems inherent to playing the electric bass. He addresses the mechanics involved in playing the instrument in the most efficient manner possible by eliminating wasted motion and reveals how you can control the shape, attack, decay, and articulations of the notes you play.
Through an organized method, this DVD is divided into four separate sections. Following a brief introduction outlining the general purpose of the content within the DVD and the benefits of utilizing good technique, Johnson begins by discussing some of the basic and most often overlooked variables involved in playing electric bass such as the angles of the wrists, the height at which the bass is strapped on, and setting the strap at a consistent length for both standing and sitting positions.
In the second portion of his course, Johnson focuses on principles including left hand posture, finger placement, the right hand, the floating thumb concept, right hand muting technique, as well as playing with a light right hand touch and right hand placement considerations.
After establishing the fundamental guidelines contained within the first couple of segments, Johnson moves onto a series of exercises that are split into two additional sections. In the first group of exercises, Johnson discusses the significance of warming up and stretching in order to build strength, independence, and dexterity between each of the fingers. He also presents a series of exercises he calls two-finger combos, a shifting drill, a supportive fingering exercise, an exercise regarded as the x-drill, and exercises he refers to as bouncing fifths. In the last section of the DVD, Johnson outlines six more collections of exercises comprised of the spider, octaves, hammer-ons, pull-offs, and ghost notes.
As with his previous instructional DVD, Johnson's Technique Builders is extremely structured, well-produced, and provides multiple camera angles with lots of close-ups which allows you to really get inside the techniques and view his hands from different positions. Following a link specified on the DVD, you can also review several of the exercises in both standard notation and tablature by downloading supplemental PDF files from Johnson's web site.
The Bottom Line Regardless of your current playing level, previous experience, or the style of music you prefer to play, Todd Johnson's Technique Builders will assist in establishing a solid foundation in becoming a well-rounded bassist and save you hours of frustration in not being able to play something accurately due to the lack of proper technique. It is the perfect starting place for beginners who have just picked up the electric bass and also for those self-taught bassists who are seeking to resolve bad habits that have been inadvertently formed over the years. -- Steve Lawson